A Game of Me
Apr 28
Dream Days—On Michael Chabon's Telegraph Avenue and Studio Ghibli's From Up on Poppy Hill
It's often true that my written reflections on books and films are far more about me than they are about those books and films. That's especially true of this one. It also contains what some may consider significant (if vague) spoilers for the novel Telegraph Avenue and minor spoilers for the film From Up on Poppy Hill. Proceed with caution.
***
My first experience of Berkeley was a dream, a stolen week or so when, on one hand, I was trying to convince myself I could make it work with this person I loved, while simultaneously breaking apart inside under the emotional strain of pretending to be the boy I believed she (and my family and society and the world) wanted me to be. Unable to come clean, to admit to myself or to her or to anyone else in my life what I was feeling, I instead let things fall apart in a way that was spectacularly painful for numerous people. But for snatches here and there during that week, those moments when I deluded myself into thinking that things might work, my life felt magical, and everything was wondrous and strange; not least of all Berkeley itself, the bustle of life along Telegraph Avenue fascinating to me, visiting, as I was, from the strip-mall-plastered cultural barrens of the San Fernando Valley.
Some years later, long after everything had fallen apart with this person I loved but before I'd found it in myself to be honest with my friends, I wandered, with a friend, in a torrential downpour, the parts of Berkeley where I'd spent that week. This helped to wash away some of my ghosts, but not all.
Now, today, I live in Berkeley. I'm far more satisfied here than I ever was in Reseda or Van Nuys, but exposure has made the neighborhood, for all its beauty that I am grateful for each time I go for a stroll, mundane.
Michael Chabon is a novelist whose works, for me, have veered between the mundane and the transcendent. I doubt that if I were to first read The Mysteries of Pittsburgh today, it would resonate with me much at all, but it was the perfect book for that frightening first year out of college; the sense that Art Bechstein's life is full of magical possibilities seeped out of the pages and into my own existence. And The Amazing Adventures of Kavalier & Clay is one of the most shimmering, revelatory works I've ever read. Meanwhile, The Yiddish Policemen's Union, despite its alternate-history setting and its unlikely mixture of cultural influences and literary styles, was intellectually engaging to me but never got my emotions off the ground. As I ventured into his latest novel, Telegraph Avenue, I wondered if the landscape of its pages would more closely resemble the real one I lived in day in and day out, or the magical one in my painful, dreamlike memories.
Telegraph Avenue is the story of two deeply intertwined families. Gwen Shanks and Archy Stallings make up one of those families. Stallings is a wonderfully fitting last name for Archy, who has a habit of postponing every major decision life demands he make. (There are echoes here of Grady Tripp, the writer and professor at the center of Chabon's novel Wonder Boys. Both men are reluctant to confront the realities of their lives, which put increasing pressure on them to become more reliable and responsible.) Gwen is a midwife, one half of the Berkeley Birth Partners, and is also pregnant, which is just one of the many factors encouraging Archy to re-evaluate his personal behavior and his professional situation. That situation involves running Brokeland Records, a beloved but not especially profitable independent record store. Gwen's fellow Berkeley Birth Partner is Aviva Roth-Jaffe, while Archy runs Brokeland with Gwen's husband, Nat Jaffe. Both of these longstanding partnerships are shaken up in the summer of 2004, as Brokeland is threatened by plans to build a chain megamall in the area, and Gwen has a heated confrontation with a racist doctor who then takes actions which could result in the Berkeley Birth Partners losing their license to practice.
Complicating matters between the families even further, Archy's teenage son Titus, with whom he's had no contact, arrives in their lives, and Julius "Julie" Jaffe, Aviva and Nat's teenage son, becomes smitten with him.
For the novel's first 400 pages or so, I felt that the East Bay in its pages was the one right outside my window, that one I set foot in every day. I grew to love its characters and admired how Chabon explored issues of race and privilege between them in ways that was always compassionate and humanizing for all involved. At one point, Gwen vents,
"I'm sick of having no power in this game, Aviva…Of always fighting against feeling useless. Of how sad it makes me feel that sisters won't go to a midwife. Also, frankly, I'm sick of overprivileged, neurotic, crazy-ass (white ladies) with their white-lady latex allergies, and their white-lady OCD birth plans, and that bullshit white-lady machismo competition thing they all get into."
By the time Gwen goes on this tear, we've spent enough time with her to not be taken aback or alienated by her anger, but to understand that of course she would feel this way. We also understand why Aviva is hurt by Gwen's words.
But in its final stretch, Telegraph Avenue becomes tinged with transcendence. Like the zeppelin that represents the Dogpile corporation which seeks to build that megamall that threatens Brokeland's existence taking flight, Telegraph Avenue finally found some emotional lift. It is a novel that understands that things don't always work out the way we want them to, but that we usually find a way to carry on and to take our pain with us. In its closing passages, my heart was pierced by the evolving relationship of Julie and Titus, a complex and in many ways unsatisfactory love that endures in a way that is both tremendously limited and tremendously liberating. As I finished the novel, I realized that the dreamlike East Bay of that stolen week and the East Bay of my day-to-day life are, of course, one and the same.
***
No sooner had I finished the novel than I dashed out the door of my apartment and walked in the direction of Telegraph Avenue to catch the latest Studio Ghibli film, From Up on Poppy Hill. As lush and beautiful as any film Ghibli has produced, Poppy Hill focuses on Umi, a high-school student living in Yokohama in 1963. Japan is looking forward to its future—the promise of the 1964 Tokyo Olympics lingers on the horizon—but also still haunted by its past. Umi's father was a sailor aboard a supply ship that sank during the Korean War, and every day, in remembrance of him, she hoists signal flags over the Port of Yokohama.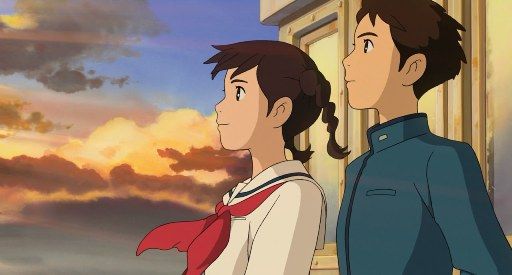 Unfortunately, Umi is largely viewed as remarkable throughout the story for the extent to which she embodies the traditional feminine ideals of cooking and cleaning, and as a result, she doesn't quite earn a place as one of the great heroines of Studio Ghibli. The boys we get to know at Umi's high school make use of a historic but dilapidated clubhouse, where they passionately study philosophy, astronomy, chemistry and other subjects. Once the rundown building is marked for demolition, Umi aims to save the day by organizing a cadre of girls to come in and help tidy the place up. The boys, meanwhile, are depicted as being "charmingly clueless" about how to handle these domestic, cleaning-and-tidying tasks.
Still, Umi is a tremendously likable character, and the romance that springs up between her and Shun (who enlists Umi's help with stencils, partially because of her neat handwriting) is tender and sweet. I was particularly touched by one moment, when it seems as if Umi and Shun can never be together, but she tells him she loves him anyway. No doubt encouraged by the memories of my own past that Telegraph Avenue, in its own oblique way, has had me considering lately, I've been giving no small amount of thought to the cost of a life lived in lies and half-truths. (My own compartmentalized past is probably also part of the reason I'm fascinated by the show The Americans, in which relationships are routinely fucked up as a result of lives lived in boxes and characters' unwillingness or inability to admit their love for each other and communicate openly.) Part of me has no patience anymore for anything less than total honesty where matters of the heart are concerned. But at the same time, my own life is still so complicated by the reality of my being transgender (on top of all the things that can complicate love for anyone and everyone) that, when love comes along, I feel like to admit to it would only be to let the complications of my own life spread outward and complicate others' lives, as well. I admired Umi's forthrightness in that moment, her unwillingness to compartmentalize her love, "pointless" as its expression seemed to be.
Apr 20
Some Thoughts on To the Wonder
"You brought me out of the shadows…Brought me back to life."
Terrence Malick's To the Wonder begins in that most romantic of all cities, Paris—or, more specifically, in that most romantic of settings, a train traveling to Paris. Marina (Olga Kurylenko) is alive with the excitement of new love. She, a Ukrainian woman living in France, has fallen head-over-heels for Neil (Ben Affleck), an American. I use the names Marina and Neil here, but during the film, I didn't catch their names, and wasn't sure the characters even had names. The only character whose name I caught being used in the film was that of Tatiana, Marina's daughter. 
Marina is an adult, obviously, and mother to the ten-year-old Tatiana, but throughout the film, she is often at play, like a child. She is ethereal and prancing, often in flowing skirts and dresses. Neil is grounded physically and his emotions seem often subterranean, except when they burst forth from under the surface. The most striking thing about Affleck's voice in To the Wonder is how little we hear of it. He communicates little. Marina is like a whirlwind, and Neil is like a silent structure around which the twister spins. (This couple reminds me much of the one played by Jessica Chastain and Brad Pitt in Malick's Tree of Life. I remember that film mostly in dreamlike snatches of imagery, which seems as legitimate a way as any to recall such a film. Chastain playing and leaping around, Pitt serious and with a tendency toward anger.)
Very early in the film, Marina and Tatiana come to live with Neil in a small rural town in the United States. The somewhat mundane beauty of this town—schools, gas stations, supermarkets—contrasts with the cultured, centuries-old beauty of Paris as it's presented in the early scenes. (I say mundane but, to Tatiana, it seems to be as exotic and wondrous as another planet. Walking in the aisles of a supermarket, she says "Everything is beautiful here.")
Javier Bardem has perhaps never been better served by his face's propensity for sadness as he is in this film. As Father Quintana, a priest in the small town, he struggles to bring comfort to the poor and the sick and the suffering, but he seems deeply in need of comfort himself. One member of his congregation, seeing the sadness clearly readable on his face, tells him she will pray for him to experience joy. He is lost, struggling to find the presence of God. When one resident of the town takes his Bible and throws it aside, then later comes looking for him, he hides from her, perhaps because her actions too strongly reflected his own ability to find God at work in his life. 
And lastly there is Jane (Rachel McAdams), who Neil knew when he was younger and reconnects with after a chance meeting. She stands in contrast to Marina, tethered by sorrow where Marina is often ecstatically, perhaps painfully alive.
And so these characters come into (and sometimes out of) each other's lives. To the Wonder does not impose on them a typical narrative structure. Instead, it grants us access to their thoughts, in much the way that The Thin Red Line and Tree of Life have also done. Poetic ruminations on love—how it can shift into hate, or abandon us altogether. This common convention of Malick's worked better for me in this film than it has in the past. Previously, I've appreciated it intellectually but felt held at arm's length by it. Here, I felt intimately drawn into the characters' experiences, and understood why they were asking the questions they were asking; I've asked them, too.
Mar 19
Accepting what can't be untangled—self, gender, experience
I saw a tweet today that made a statement I agree with wholeheartedly: If you are posting job openings and you want women to feel encouraged to apply, you should shy away from using words like "ninja" and "rockstar." If I were ever to post a job listing, I'm certain I would never include these words. But even as I was nodding along in agreement with the tweet and with this post, How to Hire More Women at Your Startup, I also had another fleeting feeling. I recalled that I'd used the word "rockstar" (for what I think may have been the first time ever) a few days ago when referring to a friend, and this old familiar internal voice, which I like to call the gender police voice, pounced on me. "Real women don't use that word!" it said, trying to cut me down, to send me spiraling down into the realms of self-doubt where I've spent far too much of my life. 
Today, I was able to dismiss the voice quickly. But once upon a time, it was not nearly so easy. Years ago, when a friend—a woman—said to me, "You like video games too much to be a girl," I was sent into a tailspin of internal doubt. If a woman said that to me today, I would just smile and shake my head, because I now have enough confidence in myself and enough awareness of other women who love games to simply know that it isn't true. And I now know that as a trans woman, I don't have any more of an obligation to fit into any arbitrary standard of what's appropriate or "real" female behavior than any other woman, cis or trans. But the reality is that trans women are often especially scrutinized; things we do or say may be used by others to try to delegitimize us as women. And to some degree, I had internalized this deligitimizing voice.
And so, for a long, long time, I wanted more than anything to not just be a woman (which I am) but a cisgender woman. I myself placed a premium on the identities and experiences of cis women. If you had asked me, when I was growing up, if I would take a pill that would have instantly made me a cisgender girl, I would have said yes in a heartbeat. Being trans and having to live as a boy seemed to do nothing but deny me the ability to express my true self, to cause me anguish and to prevent me from having so many of the experiences I wanted to have.
But I don't know anymore. If you were to ask me that same question, to offer me that same pill today, I just don't know what I would say. Because now, at this point in my life, I've been trans for so long—it has shaped so much of my experience and so many of my perceptions—that I don't know if I can separate my "self" from it. I have often wondered who I would be today if I'd been assigned female at birth. But I can never truly know the answer to that question, because my experiences as a trans person have shaped my life so profoundly; even if, starting tomorrow, I was magically able to live life as a cisgender woman, I could never undo the impact that being trans has had on who I am.
Yes, much of that impact is painful in nature. It's hard, for instance, for me to look back on my high school and college days and not wistfully wonder what might have been different if I hadn't been struggling so much all the time. And yet, though I admit that I still yearn for what's often problematically called "passing privilege" (in other words, I would prefer it if people didn't know that I'm trans just by looking at me), and though gender dysphoria still causes me no small amount of pain, I now feel like being trans is a legitimate part of who I am, of my experiences and of what I have to offer to others. I'm proud of who I've become. When I receive notes from LGBT readers thanking me for my work, it really means something. It's not the life I would have chosen for myself when I was younger if I could have chosen any life at all, but at this point, it's my life. I can choose to let being trans continue to be a source of self-doubt, or I can own it and all of the tangled, incomprehensible impact it has had on who I am. I choose the latter.
Jun 17
Lazy Sunday Fun: Whipping Up a Top 100 Games List
I like lists. I don't particularly think they mean anything; I just think they're fun to make, fun to read, fun to discuss and debate.
G4 just did a series, the Top 100 Video Games of All Time. I didn't see it and I didn't read the list in its entirety, but it led to some discussion in my Twitter feed, which compelled me to toss together a list of 10 games that might appear at the top of such a list if I were to make it. Then a friend of mine (@vitiosuslepos on Twitter) suggested that the two of us (and anyone else who felt so inclined) make Top 100 lists and see how much crossover there is. Naturally, I couldn't resist such a deliciously pointless, purely fun exercise. 
The list is not my 100 favorite games of all time. I could have made that list, but I was more interested in making a list (again, quickly and without much serious thought) of what I thought might be a respectable collection of games that are noteworthy for their influence and/or innovation. There are games on it that I don't especially enjoy playing, and in many cases games I love are lower on the list than games I don't especially care for, but that I respect for whatever reason. Despite this, it will inevitably still reflect my tastes, as well as the gaps in my knowledge and expertise. It's not meant to be taken seriously. It is not, in any sense, "official." No doubt if I had made it yesterday rather than today, it would be different. It is just for fun. Enjoy. Discuss. Make your own. Do what you will. Happy Sunday afternoon. :)
Super Mario Bros.

Wizardry: PGotMO

Wolfenstein 3D

The Legend of Zelda

GTA III

Space Invaders

Street Fighter II

Final Fantasy IV

Herzog Zwei

SimCity

Super Mario Kart

King's Quest

Pac-Man

Tetris

Rogue

Ultima

Civilization

Starcraft

Doom

Pitfall

Microsoft Flight Simulator

Double Dragon

Pole Position

X-Wing

Hardball!

Metal Gear Solid

Super Metroid

The Legend of Zelda: A Link to the Past

Diablo

Tomb Raider

John Madden Football

Half-Life

Gran Turismo

B-17 Bomber

Donkey Kong

Dark Souls

Robotron 2084

You Don't Know Jack

Lemmings

Worms

NHL '94

Guitar Hero

Mortal Kombat

Maniac Mansion

Outrun

The Bard's Tale

Dungeon Master

Fallout

Resident Evil

Red Storm Rising

The Sims

Wing Commander

Myst

Deus Ex

GTA: San Andreas

Super Mario Galaxy

Portal

Max Payne

Gauntlet

The Secret of Monkey Island

Burnout 3: Takedown

The Goonies II

Phantasy Star II

Twisted Metal 2

Goldeneye

The Elder Scrolls III: Morrowind

Final Fight

Dragon's Lair

Super Mario World

Planescape: Torment

Mega Man 2

Halo

California Games

Final Fantasy VI

Metroid

Resident Evil 4

Ninja Gaiden (2004)

Call of Duty 4: Modern Warfare

Deja Vu

Alternate Reality: The City

Braid

Thief

Red Dead Redemption

Bayonetta

SSX (2000)

Uncharted 2

Gears of War

Dance Dance Revolution
Sid Meier's Pirates!

Batman: Arkham City

Zork

Berzerk

Ultima Underworld

Super Mario 64

Final Fantasy VII

Might and Magic: Book One

Dark Castle

Bionic Commando

Super Meat Boy

Super Mario RPG
Jun 10
A Matter of Life
Before I get started, let me be very clear about something: In this blog, I'm not talking about what it's like to be trans. I'm talking about what it's like to be trans for me. Each trans person is an individual, with her or his own experiences; some may be able to relate to some of what I say here; some will not. I am speaking for myself only.
If you were to ask me what it feels like to be trans, the closest I could come to putting it into words would be to say, "You know that throbbing ache you get in your heart when you really miss someone you're very close to? It's sorta like feeling that way all the time, only the person I miss is myself."
I've previously shied away from writing anything this honest about my experience of being trans, because I know that no matter what words I use, they will seem to me utterly incapable of expressing what I feel, and because I don't want to be seen as complaining about my situation. In many ways I'm very fortunate, and I'm thankful every day for the multitude of blessings in my life.
But it hurts. My heart aches every day. I don't talk about it much even with good friends, because it never really changes, so there's nothing to say on each new day that I haven't already said. And that's one of the greatest difficulties in my experience of being trans: the way it overshadows so much else in life, and leads to a sameness of feeling, day in and day out.
I think of it as a birth defect. This doesn't ring true for all trans people, but it rings true for me. I believe I have a brain wired for life as one gender, and the body of the other, and the constant clash between the two gives off sparks—like two electrical components that aren't designed to work together—that reverberate disruptively through every aspect of my life. It interferes somewhat with my ability to connect with others and to be empathetic; it's hard sometimes to focus on other people when there's a knife twisting in your own chest. And I hate that. Nothing is more important than our connections with others.
In middle school, girls occasionally told me things like, "You'd be a pretty girl." I pretended to be slightly insulted or embarrassed, but the reality was that these comments gave me hope. Though I felt completely alone in the world and certainly didn't dare to talk to anyone about my feelings, I knew, thanks to Phil Donahue, that other people like me existed, and that some of them went on to live as the women they actually were.
It was a hope that one day I could do the same that kept me going through the painful and interminable years of adolescence and beyond. It was also the arts—when I was watching a book or reading a movie or listening to music (or, yes, playing a video game), I could escape temporarily from the anguish of my gender dysphoria and experience something as a whole person. Perhaps, as a result, I became unhealthily attached to these things, spending too much time escaping into them from the real world, but I don't know; sometimes I think that this constant escape may have saved my life.
Now that I'm 35, it still is the hope that I can one day live as myself that keeps me going. I never really imagined when I was young that I might reach this age and still be at this awkward stage of my transition, but then again, back then I had no understanding of the financial costs associated with transition.
Those costs vary from person to person depending on what each person feels they need for their transition. I personally consider a procedure called facial feminization surgery essential for my own transition.
The face is far and away the most important factor our brains use when the subconscious act of sorting people by gender takes place. Hormones and genetics have given me a particularly masculine face; a strong jawline, a prominent brow, and so on. It's the pain that seeing this face—which doesn't mesh with my strong internal sense of who I am—causes me that leads me to flinch from photos of myself. It's this face that leads close friends who know full well that I identify as a woman to still have a hard time seeing me as one. It's this face (at least, in part) that leads lots of bozos to post nasty things in comments on videos in which I appear (which doesn't bother me) and which led security at E3, which I just returned from, to occasionally look at the name on my badge, then look at my face, then look back at the badge, then back at my face, then ask skeptically, "Is this you?" before scrutinizing my identity in more detail than they did any of my colleagues (which does bother me).
Sometimes people ask me why, if I identify as a woman, I dress in the way I do. I do this for two reasons: one is that I'm the sort of woman who is perfectly happy wearing a t-shirt and jeans much of the time; the other is that, while ignorant comments directed my way on the Internet only make me laugh, I'm terrified of real-world confrontation. Violence against transgender individuals is a reality even in the Bay Area, and my sense is that, as long as my face is the way it is now, dressing in more feminine clothes would only make me stick out as a transgender individual on the streets that much more.
Facial feminization surgery isn't about being beautiful. It's about looking in the mirror and seeing the person I am looking back at me, and knowing that other people see that person, too. Unfortunately, it's prohibitively expensive for me and for many other transgender women who feel it is essential for their transitions. I'm fortunate enough to be able to save up several thousand dollars a year, and might finally be approaching the point within the next year or two where I can afford a trip to see a respected surgeon in Thailand for FFS. But of course, after that, I'll need to begin saving up for still more transition-related expenses, when people my age are ideally saving up money for things like houses, raising a family, travel, and so on.
I apologize if this sounds like I'm whining. As I said earlier, I'm tremendously fortunate in so many ways, and I'm grateful for that every day. And in some ways, things are better for transgender people in the U.S. now than they've ever been. More companies are helping their transgender employees cover the costs of transition. Sports Illustrated printed a respectful article about the challenges of the transgender athlete. And it means something to me to see the word transgender on this credo hanging in the White House.
If this post seems selfish, well, I admit, I am concerned about myself. I'm painfully aware that every day that passes is a day I don't get back. But there are thousands of transgender individuals out there who aren't living their best lives because they can't afford the costs of transition-related care and procedures. This fact isn't getting enough attention. A recent article in New York Magazine examined the experiences of parents who are supportive of their transgender children, and that's fantastic. But the reality is (as People Magazine editor and trans advocate Janet Mock pointed out on Twitter) that many parents who would be similarly supportive of their transgender children can't be for the simple reason that they can't afford to be. President Obama can talk now about supporting gay marriage, but what if he came out in support of tremendous reform for the way our health care system handles transgender care?
Some may think that these are low priority issues. They're not. Transition may not be a matter of life and death, but it is, in the deepest and most profound possible sense, a matter of life.
Oct 11
A few words for Coming Out Day 2011
I'm coming out again as a transgender person because we still have such a long way to go.
Many teenagers and younger people struggle with feelings of gender dysphoria but have been taught that such feelings are shameful and wrong. Carrying such difficult feelings privately with a sense of shame is emotionally and psychologically excruciating. Here in the U.S., things are getting better. There are more support systems in place now than ever before for those struggling with these feelings. But there are still too many who don't have such support systems in their families or schools.
Too many transgender adults live in fear of employment discrimination or violence, and deny their true selves as a result. This is no way to go through life.
For too many, the costs associated with transition are prohibitive. For others, they simply take many, many years to save up for—years that you don't get back once you finally have the "luxury" of living as your true gender. Yes, more companies are covering or helping to cover the costs of employee transitions, but so many still offer no such assistance. Feeling the need to live life as your true gender but being unable to do so is very painful. And transition doesn't just benefit the individual. When the pain of gender dysphoria is gone, she (or he) is likely to be happier, more comfortable, and more productive. With less emotional and mental energy eaten up by the day-to-day struggle of gender dysphoria, there's so much more to devote to other people and things. 
If you're ever in a position to make a young person who is struggling with the pain of gender dysphoria feel some hope for his or her future, please do so. If you're ever in a position to make the place where you work more inclusive toward transgender people, or to support financial assistance for transgender employees, please do so. We have a long way to go, but we are making progress, and every step on this journey counts.
Thank you.
Aug 01
I don't want to brag or anything, but I'm in Captain America.
I don't want to brag or anything, but I'm in Captain America.
It's true! Skip to about 6:11 in the clip below and you will see me set some dishes on a table.
Yep, that's me. Or, I suppose you could say, that's the boy I was. Though in the truest possible sense, I wasn't ever really him.
I remember the way I felt that day, filming at that house down in Redondo Beach. It was much the same as I'd felt nearly every day for a few years prior, and nearly every day for years and years to follow.
Words always fail me when I try to articulate what that feeling is. People sometimes argue that transgender people are living a lie, pretending to be something they're not. There's no way I can make them understand this, since I can't open up my soul and let them step inside and experience what I've experienced for years and years, but they have it backwards. It was being a boy that was the lie. Every day, it weighed on me, this feeling like I had to pretend to be someone I wasn't. The emotional pain was so acute that it was often almost physical, like a little knife twisting in my heart. This has made me withdrawn for much of my life—It's hard to feel the normal joys and sorrows of everyday life when a source of pain is always so immediate. And of course, others were hurt as well, as I tried and failed to behave in ways that were expected of me, and as I pressured myself to act the part in the misguided belief that maybe I was just crazy and maybe someday it would all go away.
Things are better now. I've accepted who I am and I don't hide it from others. But I still have a long way to go. And it still hurts. Some days are harder than others. Gender dysphoria is real, and it is painful. That's why the American Medical Association recommends that treatment be provided for it.
Occasionally, someone will post a comment about me that's along the lines of, "If you identify as a female, why do you still look like a dude? Why not finish with your transition before publicly presenting yourself as Carolyn?"
That's a fair question. If you had told me even a few years ago that I would one day be in this position, being publicly out as a transgender person at this awkward stage of my transition, I would have said you were crazy. Nothing sounded more terrifying to me than the prospect of being out before having fully transitioned. In fact, my plan (or at least my fantasy) was always to go "stealth," as it's sometimes called in the T community. To transition and then maybe start a new job in a new place where most people didn't know about my past and accepted me at face value as the person I am.
But when push came to shove, denying my true identity was more painful than acknowledging it was scary, and so here I am.
The reason why I remain at this awkward stage, and will for at least a little while yet (much to my dismay) is money. Not every person who makes the MTF transition needs facial feminization surgery, but I've been cursed with a particularly masculine facial structure, and so I consider facial feminization surgery absolutely necessary. (Other surgeries are necessary, too, but FFS will have the biggest impact on how I'm perceived in my day-to-day life, and as such, it's easily the top priority for me.) You may not think that FFS can really have a dramatic impact on a transgender person's life, but indeed, for many transgender women, it makes absolutely all the difference in the world. Most who undergo FFS don't make the results public, for understandable reasons. They want to be seen by the world as the women they really are and now appear to be, and often, images of the time before are painful reminders of a time they'd rather forget. But some do opt to demonstrate just how dramatic the results can be. For instance, in the video below, FFS is an essential part of Meghan's transformation.
It's also extremely expensive. I had one consultation with a surgeon here in San Francisco, one of the most well-respected FFS surgeons in the world, but at close to $40,000, surgery with him was prohibitively costly for me. I am now looking into having the surgery done in Thailand. Going to Thailand for a surgical procedure may sound foolhardy and dangerous, but this particular surgeon has an excellent reputation. He is more affordable, but far from cheap, and while I might be able to afford having FFS with him within the next year or two (I hope), it will cost every penny I've spent years saving.
I'm on the brink of turning 35, which is much older than I'd hoped to be to still be dealing with these issues, but these vital services remain far more costly than they should be. More U.S. companies are covering or assisting with the costs of surgery for their transgender employees, and that is a wonderful trend, but it has a long way to go. If you're ever in a position where you have the power to speak up and nudge this trend in the right direction, I urge you to do so.
There's a great line in the film The Edge. Charles Morse, the millionaire played by Anthony Hopkins, says, "Never feel sorry for a man who owns a plane." In my head, that often gets changed to "Never feel sorry for a woman who reviews video games for a living." In fact, my life is full of blessings and good fortune. I am one of the lucky ones, and I never forget it. But that fortune in so much of my life doesn't eliminate the pain that results from looking in the mirror and seeing someone who I know isn't me looking back. Sometimes, I just need to talk about it. Thanks for reading. And if you have any ideas for how I might be able to do some fundraising and tackle the financially daunting next step of my journey a little sooner, well, I'm all ears.  
Dec 28
I think this brilliantly sums up a particularly knotty and important aspect of the awkward, adolescent crossroads we are at culturally with regard to how we view games.
[Picture: Background: 8 piece pie style color split with red and teal alternating. Foreground: White, cisgender guy with glasses and light shadow wearing a sweat shirt over a button down and short black hair. Has a smug, arrogant facial expression and crossed arms. Top text: "Video games are an art form and should be taken seriously." Bottom text: "Sexism? Sheesh, it's only a game; why do you have to get so worked up over it?"]

Oh look, it's a privilege-denying game journalist.
Dec 04
Gender Games
In this video review for nail'd, a new extreme off-road racer, I take just an instant to mention that, while male racers are sensibly outfitted in protective gear, if you choose a female racer, your only clothing options are extremely revealing ones. (This bit of the review is at 3:45.)
Obviously, the primary purpose of reviews on GameSpot is to help people make decisions about which games to spend money on and time with, not to be culture police. Sexism, and particularly the presentation of men as human beings alongside women who are presented as sex objects, is so common in games that it's more surprising when a game bucks the trend than when it reflects it, and it's not something I would point out in each and every case. I mentioned it here because I felt that it was blatant enough that it would have a negative impact on the experiences some potential players (most of them women) would have with this game. (It's pretty hard to ignore the objectification going on when you're on the rider customization screen and there's such a stark difference in how the men and women are presented.) And while I would love it if everyone thought critically about the way women are portrayed in games, I know that's not how it is, and I figured that those who don't mind (or perhaps enjoy) a little objectification of women in their extreme off-road racing games could just disregard that one brief bit of criticism as irrelevant to their interests. 
Instead, this seems to be by far the aspect of the review that Youtube commenters are discussing most (with the possible exceptions of those perennial favorites: my voice and my gender identity). While most come down pretty strongly on the side that says things like "the female outfits are revealing and not realistic?… MOTHERFUCKER you got boost, the game isn't meant to be realistic" (which completely misses my point), I'm pleased to see that at least there are two sides to this discussion, with some voicing the (in my opinion much more reasonable) viewpoint seen in comments like "The developers are making a game clearly for guys and alienating girls. That's why its a problem."
However, the objectification of women in games matters not just (or even primarily) because of how it may turn off potential female players. It matters because all of us, and younger people in particular, absorb notions of what labels like "male" and "female" mean from anything and everything, and most of us are never properly taught to question these messages.
Below is a video by Feminist Frequency that's only tangentially related to this topic—it's more about how incredibly male-dominated games are than about how they often objectify women—but I think that, as indicated by the games shown at the 0:47 and 1:00 marks, the issue of objectification and hypersexualization of women in games is "easy to fix."
In my opinion, there needs to be an ongoing conversation about the portrayal of women and men in games, and people need to be encouraged to think critically about the messages games send about what it means to be a man or a woman.
Nov 26
thanks
"faggot"
That solitary word makes up one of the comments on Youtube for one of my video reviews. It also appears in plenty of other comments, in delightful turns of phrase such as "this guy sounds like fuckin faggot." Never mind that the video clearly states my name as Carolyn within the first few seconds. Yes, I am a transgender woman, and okay, I certainly still have some room to improve where my voice is concerned, but really, calling me a "faggot," which is never an acceptable word to use under any circumstances, is just wrong on so many levels. Youtube comments: You will never find a more wretched hive of idiocy and cruelty.
Once upon a time, such language would have wounded me. In fact, even very recently I couldn't have imagined putting myself in a position where I can be so easily targeted for such comments. But now, I am too secure in my knowledge of myself and in the casual acceptance of those who matter to me most to be shaken by those who voice their own ignorance and misunderstanding. Now, it doesn't hurt at all. It just makes me a bit sad. I am sad for those who feel this kind of hate—I believe it needs to be taught, that it's something that's absorbed from society (I certainly knew very early on to hide who I was, that certain expressions of self that felt natural were to be repressed and to be ashamed of). And though this commenter is still presumably quite young, escaping from the gravitational pull of such pitiable ignorance is something that only occurs in rare circumstances. There's a very good chance that he has a life of closed-minded hatred to look forward to. It saddens me to know that he is not a rare example of prejudices we are rapidly leaving in our past, but instead is giving voice to a fear, an ignorance, a hatred that is still deeply woven through so much of our society.
But more than that, I feel sorry for those young people who encounter such ignorance, be it on the internet or in their schools, at the mall or at church, and who may internalize it, feeling that there's something deeply wrong with them. Young people who learn from the verbal and physical lashings of their peers, or perhaps the disapproving glances or stern words of their parents, that some aspect of themselves is wrong. They will learn that it is to be denied and hidden away, curled up and caged in some remote corner of their souls, its starved cries echoing under the surface of every aspect of their lives. Yes, it gets better, and some day, if they are lucky, they will learn to set free and to embrace this part of who they are. But the scars these experiences leave may never fully heal.
For my part, I am thankful, not for the cruelty directed at me, exactly, but to be in a role where some people are brought into contact with the reality of someone like me, and though it may make some of them uncomfortable, well, the spreading of understanding and acceptance has always been a long, awkward process. And while I am unaffected by the criticisms leveled at me (except for one comment I read, "why is this reviewer sound like the dead michael jackson," which made me laugh heartily), I am moved by the kind messages I've received. One was from a transgender teen in a small town, who says it's "extremely encouraging" to see me in this public role. Another was from a young man who had just finished celebrating Transgender Awareness Week at his school, and thanked me for "representing." It's not something I ever set out to do or saw myself doing, nor is it something I'm consciously doing even now. I'm just being myself as I do my job, which is greatly preferable to being someone else as I do it.
There have been many more very kind, supportive comments. I've been touched by each and every one of them, and I am truly thankful for them.
And I am hopeful. I believe we are moving in the right direction, and that LGBT people of future generations will have an easier path. There is a strength found in freedom, in love and acceptance and honesty, that the lashings out of ignorance and hatred cannot shake.